Tribe offers
trade course to
start students
on career paths
By Kristin Storey
The Desert Sun

THERMAL - Gabriel Ward has
long depended on odd jobs to
support his family, but today
he is scheduled to start a full-
time job with a future.
"We all have a good chance to
get jobs," said Ward, who was
among eight members of the
Torres-Martinez Band of
Desert Cahuilla Indians to
graduate Tuesday from the
tribe's first introduction to
building trades course.
About 30 family members
and friends attended a special
graduation ceremony and
luncheon. Also in attendance
were potential employers.
Ward, who is a member of
the tribal council, will begin
working in La Quinta as an
apprentice with the Southern
California-Nevada Regional
Council of Carpenters - which
sponsored the program by
paying $40,000 for an
instructor for two 10-week
classes.
Glen Parker, a union repre-


resentative, said there is a
shortage of skilled labor and that
training programs like this benefit
the tribe and the industry.
"The contractors are excited
because these guys walk in knowing
how to use tape measures and
change fractions into decimals,"
Parker said. "They jump in way
ahead of the game so (the journey-
men) don't have to keep showing
them how to do things."
The basic math skills, tool skills and
some safety preparation is all part of
the 300-hour class taught at the
reservation. The class is an
introduction to all the building trades
and at the end, students choose one
for a profession.
"It makes them feel like Magic
Johnson with everyone bidding
on them," said Alan Hamann, who
taught the class. "They've all been
offered three or four jobs."
Among the employers vying for the
graduates was the California
Department of Transportation who
will need people to work on widening
Highway 86 near the reservation.
The tribe originally opposed the
expansion, but now leaders are
looking foward to the work it will
bring, according to Tribal Chairwoman
Mary Belardo.
Belardo is thrilled at the initial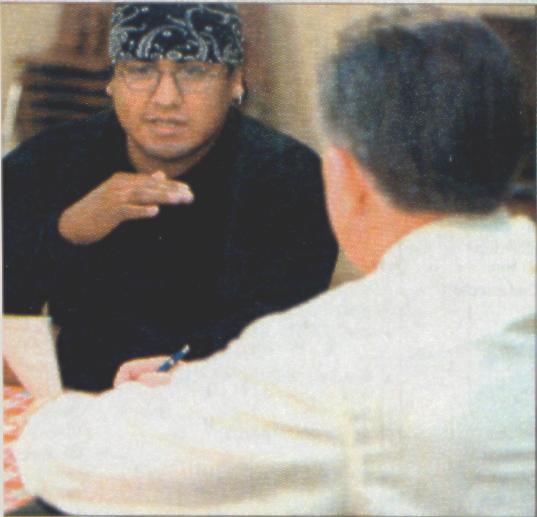 Potential work: Before
graduation ceremonies, Chris
Moreno (left,) discusses a
possible job as a surveyor with
Daryl Lewis. All of the students
who graduated Tuesday had job
offers.
---
success of the program."This
is the best example for the
reservation since I've been
here," Belardo said.
"We've had other work-training
programs, but the funding ran
out or it couldn't be finished,"
she said. "These boys stayed
with it and now have jobs."
Adrienne LaVergne, whose
husband, Joseph LaVergne,
graduated from the class, is
thrilled with the hope it has
already given her family.
"He's really grown. He's
learned a lot," said Adrienne
LaVergne, who cried as her
husband accepted the
certificate of accomplishment
at the graduation ceremony.
"We're all so exited."